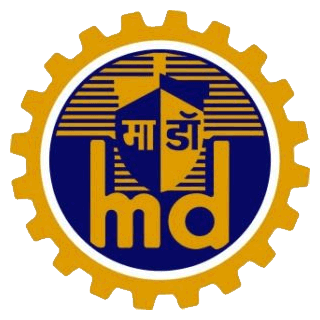 Mazagon Dock Shipbuilders Limited (MDL) Recruitment 2018 - Executive Trainee :
Mazagon Dock Shipbuilders Limited (MDL) is India's leading Shipbuilding Company with ISO 9001:2008 accreditation. It is a profit-making Central Government Schedule 'A' PSU under the Ministry of Defence, Department of Defence Production, engaged primarily in the building of Warships and Submarines for the Indian Navy. MDL has a consistent growth, both in physical as well as financial parameters and has an ambitious growth plan. The present turnover is approximately `4,400 Cr. which is projected to be higher in the coming years. MDL has employee strength of around 9,000.
Applications are invited from Indian Nationals for the following:: Eligible & interested candidates are required to apply online. (Online Application opens from 09 Jan '19 and closes on 07 Feb '19):
Post :
Executive Trainee
Vacancies :
08
Upper Age as on 07 Feb '19 :
28 years
QUALIFYING REQUIREMENTS :
Qualification :
Full-Time degree in Engineering in Mechanical/ Electrical with First Class or minimum 60% Marks or equivalent CGPA from a recognized University/ Deemed University or Institute recognized by AICTE. Final year students are also eligible to apply for the post. However, their final selection will be subject to clearing the qualifying requirement as above with First Class or minimum 60% Marks or equivalent.
Job Description :
The incumbent will have to handle job functions like Ship/ Submarine construction, refits, modernization, in any of the relevant fields of Planning / Design / Procurement / Fabrication / Berth / Outfitting / Quality Assurance / Test and Trials. The incumbent may be deployed for any other duties of the Company depending on requirement as may be decided by the Management.
SELECTION PROCESS :
The selection process will comprise the following.
a)
GATE Marks:
The Graduate Engineers from the relevant disciplines mentioned in the Qualifying Requirements, who are desirous of taking up a career with MDL are required to write Graduate Aptitude Test in Engineering (GATE) 2019 examination in the same disciplines.
i) The GATE papers along with GATE paper codes which MDL would be considering for selection process are given below:
ii) Candidates with valid GATE 2019 Marks who have obtained more than or equal to the qualifying marks as fixed for the respective discipline by GATE Authorities shall only be considered for the said recruitment process.
iii) Please note that only GATE 2019 Marks are valid for this recruitment exercise in MDL under this advertisement. GATE Marks of 2018 or prior to that shall not be considered.
iv) Marks mentioned against the following in the "GATE score card" would be considered for this recruitment exercise:
v) Candidates need to ensure that they fill up the GATE Registration Number correctly and apply for the relevant discipline in MDL Online Application Form. Requests for correction in GATE Registration number or Discipline will not be entertained.
Personal Interview:
Based on GATE 2019 Marks, candidates will be called for Personal Interview. The total marks in Personal Interview will be 100
Final selection:
Final selection will be drawn up taking into account the Marks of GATE 2019 and Personal Interview together.
Weightage
- The final select list will be prepared on the following basis:
VERIFICATION OF ORIGINAL DOCUMENTS
In case the candidate is called for Personal Interview, he/she has to bring the downloaded application form and all Original Documents alongwith one Separate Set of Photo Copy duly Self Attested in the order as mentioned below. The candidature of all candidates will be provisional and all the required documents will be checked at the time of Personal Interview. However, this list is not exhaustive and candidate may be required to produce other relevant documents on case to case basis in support of his/ her candidature. Non-production of original documents will debar the candidate from appearing for the interview.
I. Print Out of Application Form
II. 'CANDIDATE'S COPY' portion of Bank Challan.
III. Document in support of Date of Birth (DOB) proof:
a) Xth Std. Passing Certificate indicating DOB OR
b) School Leaving Certificate OR
c) Birth Certificate
IV. Qualifications
a) Xth & XII Std. Marksheet & Certificate
b) Marksheets of relevant qualification (all semester / year wise) indicating date of declaration of result.
c) Final Certificate of relevant qualification.
d) Provisional Certificate (in case Final Certificate is not available). In case of candidates who are appearing for B.E./ B.Tech., marksheets of all completed semesters indicating date of declaration of result. (Such candidates shall be required to submit the documentary proof of having passed the qualifying examination by 31 Aug '19 with minimum prescribed percentage.) Such candidates need to mention their Date of Passing, Percentage & Grade of last semester whose results have been declared in the respective Column of the Online Application Form under 'Education Details'.
V. In case of CGPA/ Grade being awarded by the Institute/ University, document indicating CGPA/ Grade to Percentage conversion issued by the Institute/ University.
VI. Eligibility criteria for candidates working in Govt./PSU/Private Sector
a) Candidates working in MDL Internal candidates are required to submit their applications through their HOD to HR-E Section by hand.
b) Candidates working in Govt./ PSU The applicants shall have to produce No Objection Certificate (NOC) or Forwarding Letter from the employer: failing which the candidate shall not be allowed to appear for the interview.
Caste Certificates: SC/ST/OBC (NCL) candidates must produce caste certificates, as per the format prescribed by the Government of India. Format of Non Creamy layer certificate for OBC have been uploaded on MDL website under the head "Career-> Executives". OBC candidates, who belong to Creamy Layer, are not entitled to concession admissible to OBC category. Non Creamy Layer Certificate for OBC category should be issued not more than 1 year before the last date of submission of online application. Candidates please note that requests for change of Category in the application form once submitted will not be entertained.
VIII. In case of PWD candidates, Disability Certificate issued by the Competent Authority as per the Act.
IX. Candidates from Armed Forces and presently in the last year of service need to submit certificate/letter of Competent Authority stating the last date of Service for availing the Age Relaxation applicable to ExServicemen. Document clearly mentioning Date of release from Armed Forces is a mandatory requirement if Age is exceeding as on 07 Feb '19.
X. Valid ID Proof : PAN Card & Aadhar Card
AGE RELAXATION:
SC/ST -- 05 years
OBC -- 03 years
PWD -- As per PWD Act /Govt. guidelines. (Only such person, who suffers from not less than 40% of relevant Disability are eligible to be considered under PWD as per "The Rights of Persons with Disabilities Act - 2016").
Ex-Servicemen -- As per Govt. of India guidelines.
Internal Candidates -- 5 years
There shall be minimum of 03 years of Service left before superannuation (60 years) in respect of outside candidates and 02 years in case of Internal candidates as on last date of application i.e. 07 Feb '19..
Pre Employment Medical Examination:
Applicants should be of sound health and meet the Medical Fitness Standards as prescribed. Candidates short-listed for appointment following interview shall undergo a medical test conducted/ organized by the Company and certified by the Company's Chief Medical Officer. Candidates called for Pre Employment Medical Examination shall attend the same at their own expense.
Verification of Antecedents:
Police Verification Report (PVR) is a pre-condition for joining of the selected candidates. Candidates will have to obtain a formal Police Verification Report before joining MDL. Candidates joining from Govt./ PSU and whose applications have been forwarded through proper channel will be permitted to join on the basis of an identity certificate issued by a Gazetted Officer.
Offer of Appointment:
Candidates finally selected for the post will be offered appointment as per Company Policy in vogue. The selected candidate will be on probation for a 6 period of one year and shall be confirmed in the post on successful completion of the probationary period. Performance of the selected candidate shall be reviewed periodically with reference to the tasks assigned to him/ her from time to time.
Candidates must qualify through each stage of selection process successfully before being adjudged as suitable for selection.
Career Prospects in MDL:
The Company has a conducive and challenging work environment and offers attractive opportunities for growth through various training and development programs and a forward-looking & performance driven promotion policy. A meritorious and hard working Executive can, thus look forward to very good career development prospects.
How to Apply:
a) Interested eligible candidates shall register themselves ONLINE for the GATE 2019 examination for which registration has started on 01 Sept '19.
b) Information related to GATE 2019 can be obtained from GATE Organizing Institute's website
www.gate.iitm.ac.in
c) Following are the important dates related to the selection process through GATE 2019 marks:
GATE Online Application Processing System (GOAPS) Website Opens: Enrolment, Application Filling, Application Submission -- Saturday, 01 September 2018
Closing Date for Submission of Online Application -- Friday, 21 September 2018
Extended Closing Date for Submission of Online Application -- Monday, 01 October 2018
Availability of Admit Card on Online Application Interface for printing Starts from -- Friday, 04 January 2019 onwards
MDL Online Application system opens on -- Wednesday, 09 January 2019
MDL Online Application system closes on -- Thursday, 07 February 2019
GATE 2018 Online Examination -- Saturdays & Sundays 02, 03, 09 and 10 February 2019
Announcement of GATE Results on the Online Application Website -- Saturday, 16 Mar 2019
d) GATE 2019 registration number provided on the Admit Card issued by GATE Authorities has to be used for applying to MDL. Candidates need to ensure that they fill up the GATE Registration Number correctly and apply for the relevant discipline in MDL Online Application Form.
MDL Online Process
• Log on to MDL website
www.mazagondock.in
• Click on Online Recruitment
• Register by filling up relevant details & click on "Submit" button.
• Click on the validation link sent on email.
• Login to MDL Online Portal with "Username" & "Password"
• Select the job under Executive Tab & view the "Eligibility Criteria"
• While applying, candidate should have the scanned copy of recent passport size colour photograph, their signature & other relevant Certificates in JPEG format.
• Read the instructions carefully and fill up all the details in the Online Application Form.
• Candidates may enter 'NA' in the mandatory fields not applicable to them
• Check preview of the Application form and make corrections, if any. Any changes in the application form need to be edited before clicking on "Submit". No other means of communication or correspondence will be entertained for correction in the Online Application Form.
• Candidate belonging to General / OBC category are required to pay the application fees of ` 300. Detail instructions for payment of processing fees may be referred at Para-12. (Applicants belonging to SC/ ST/ PWD (Persons With Disability) are exempted from such payment of processing fee.)
• Click on "Home" tab and ensure your application submission status to be "Successfully Submitted".
• Take a print of your application form with unique registration no. on or before the last date of application for future reference. Option for printing of application form will not be available after the last date of application.
Candidates are not required to send hard copy of Application Form to MDL at this stage.
INSTRUCTIONS FOR PAYMENT OF PROCESSING FEES:
Candidates are required to deposit the Processing Fee at any nearest Branch of State Bank of India (SBI) as per procedure given below.
i) Download the Pre-filled State of Bank India Challan
ii) Deposit cash of `340/- (including Bank Charges of `40/-) at the nearest SBI Branch upto the last date of remittance mentioned at the end of the Challan i.e. 07 Feb '19.
iii) Bank shall retain its copy (Bank's Copy) and return two parts (MDL's Copy and Candidate's Copy) of the Challan to the candidate
iv) Ensure that Bank officials have filled up all necessary details (Branch Name, Branch Code, Journal No. & Date of Remittance) along with Bank Seal acknowledging receipt of fees on MDL's Copy as well as Candidate's Copy of the Challan.
v) Login to your MDL online recruitment account. Upload the scanned copy of the SBI Challan by Clicking "Upload Challan" tab
GENERAL INFORMATION AND INSTRUCTIONS
i) Before applying for the post, candidate should ensure that he / she fulfills the eligibility criteria and other conditions mentioning in the advertisement.
ii) Candidature is liable to be rejected at any stage of the recruitment process or after recruitment or joining, if any information provided by the candidate is found to be false or not in conformity with the eligibility criteria mentioned in the advertisement.
iii) The Qualifying Requirements & Age limit shall be reckoned as on 07 Feb '19. 9 iv) Outstation Candidates called for Personal Interview shall be reimbursed Travelling Expenses by the shortest route from the correspondence address mentioned in the application form on production of tickets as given below.
Post
-- Executive Trainee
Eligibility
-- Third AC Rail/ Luxury Bus
v) MDL reserves the right to cancel/ modify/ restrict/ enlarge/ alter the recruitment process, if need so arises without issuing any further notice or assigning any reason thereof.
vi) Intimation regarding Personal Interview & Result: List of 'Eligible Candidates', list of 'Not-Eligible Candidates', 'Interview Schedule', 'Result' etc. will be hosted only on MDL Website under the head "Career->Executives". Candidates are requested to visit MDL website time to time to get themselves updated on the recruitment status.
vii) In case of any ambiguity/ discrepancy in the online recruitment portal the terms & conditions as mentioned in this advertisement will prevail.
viii) Any further Information/ Corrigendum/ Addendum would be uploaded only on MDL website.
ix) MDL reserves the right to fill up all the vacancies advertised or part or cancel the entire recruitment process at any point of time during the recruitment process.
x) Any dispute with respect to this recruitment is subject to Mumbai .
IMPORTANT DATES
a. Commencement of MDL Online Application -- 09 Jan '19
b. Last Date of MDL Online Application -- 07 Feb '19
c. Tentative Date for announcement of Personal Interview schedule -- 17 May '19